Pokies slot machines
Pokies are hands down, no contest, bar none, without a shadow of a doubt the most popular game in a casino both brick-and-mortar and online. They're so popular at a lot of casinos that they are played more than any other game combined. But what's so great about them, and how do you even play? Well, one of the best parts about diving into this casino essential is that they're fantastically simple and approachable, and the winning potential is absolutely staggering.
Online Pokies, also commonly known as Slots, Slot Machines, Fruit Machines, or Fruities, are set up into three distinct categories at most casinos: 3-Reel, 5-Reel, and 3D.
Read more about slots
Are you looking to find more information about a specific slot? We have reviewed a few of the most popular slots for Australia.
Wild Panda slot
Where's the gold slot
Starburst slot
5 dragons slot
Gold miner slot
Lucky88 slot
Miss Kitty slot
Mega Moolah
Avalon
Gold Factory
Book of Ra
Read more about the software produceres like Ainsworth, Williams Interactive and Bally Technologies.
How They Work
Pokies come in all shapes and sizes, so this is just a general guide, as each will have a slightly different setup depending on the kind of Pokie and its features. With that being said, a consistent aspect is the object of the game, which is to line up specific combinations of symbols across the designated lines of the reels. A Pokie can have a single line to as many as 50 or more, and each line can win independently from another, which means that you can win more than once on one spin, so the more lines you play, the more chances you have to win. Winning combinations of symbols result in multiplier payouts that apply to your bet per line, so the higher the bet is, the higher the payouts will be. Once the bet per line, number of lines, and familiarization with the different symbol combinations are set, you're ready to press spin and start playing!
The Different Kinds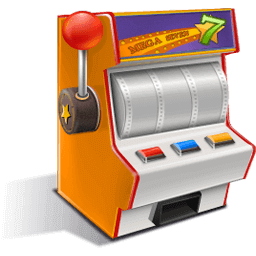 3-Reel Pokies are Pokies with the least amount of frills. You have one so lines, and often they feature coin-play, wherein the player sets the value of the coins and the number of coins they want to play. For example, if you play five coins and value them at a dollar, then win a 100-coin payout, you win $100 on a $5 total wager.
3D Slots are the wave of the future, with unbelievably breathtaking graphics, animation, and sound effects that rival next generation video game consoles and even Pixar and DreamWorks movies. The speciality symbols, the bonus games, the incredibly high Progressive Jackpots, 3D Pokies are truly incredible, and incredibly, they keep getting better and better.
5-Reels combine the depth of the 3D versions with the simplicity of the 3-Reels, with a few more lines, potentially coin play, and a couple of bonus symbols. A good example is Food Fight, where you can unlock free spins by building an ice cream cone or a pie.
The Special Features
Special Features are most common in the 3D Pokies, but you can find them in the 5-Reels pretty often, as well as in the 3-Reels. Wild symbols, also referred to as Substitutes, can take the place of any other symbol to create winning combinations. Wilds also often trigger the highest fixed jackpot when lined across a single line. Scatter symbols do not have to line up on a line, appearing anywhere on the reel to trigger a multiplier that applies to your overall wager, not just your bet per line. Scatters also trigger bonus games normally, but special bonus game symbols could apply instead. A bonus game ranges from free spins to immersive games that put you in control, shooting baskets, taking shots, digging mines, opening treasure chests, or any number of winning possibilities. But what truly separates a Pokie as being a favourite of the casino is the Progressive Jackpot. Every time a player places a bet all across the web, a portion is added to the Progressive Jackpot until one lucky player hits it. The record is over $20million!
How to Find the Perfect Pokie
As already mentioned, Pokies come in all different shapes and sizes, but they also come in a number of themes and categories. You can find pokies themed on sports, pop culture, fantasy, adventure, nightlife, history, and so much more. The number of lines you plan on playing is important, whether or not there's a Progressive Jackpot or a bonus game, the types of specialty symbols, or any number of aspects can make or break a game depending on the player. Everyone is different, but lucky for us, there are at least a dozen Pokies out there for each and every one of us, and more are getting added every day.
Casino menu
Best bookies