Sic Bo
Sic Bo is one of the oldest games still played at online casinos, an Ancient Chinese gaming choice that is tough to find in many English-speaking countries, but is not too tough to find at Australian casinos due to the country's proximity to Asia. However, Sic Bo is extremely easy to find online, available at most of the best online casinos available to online casino Australia players. While it's the virtual version of the game, the odds are mathematically identical to the real life version. Here's how to play.
The Setup
Sic Bo is similar to Craps in that you place chips on the different sections of the betting area, and each section represents a possible combination of dice. The three dice are shaken up and rolled from a box, and if you have chips on a betting area that represents what the combination of the dice is, you win that payout. Just like at a brick-and-mortar casino, each betting area is labeled with the potential payout, and the least likely the combination, the higher the payout. If the odds of the combination are good, the lower the payout. The same applies to Craps and Roulette.
How to Play
To play, all you need to do is place chips on the table and press the play button.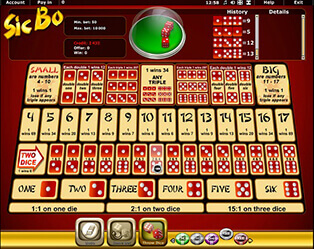 You can set the denomination of the chips you want to play and how much money you want to wager on each betting area, which can be as few as one single stack to as many as you like on the fifty different options. You can place very conservative 1 to 1, double or nothing bets on "Big," where the total of the three dice added together is between 11 and 17, or Small, where the total would be between 4 and 10. You can also bet Odd or Even for 1 to 1 payouts.
The rest of the payouts are higher, but the chances of them winning are pretty significantly lower. All payouts are presented on the table, and it's an incredibly easy game to understand and get into, which leads us to the next and final section, which is what the best way to get started would be.
Recommended Way to Get Started
Sic Bo is definitely a game of luck, but as it is with every online casino game no matter how based on luck it is, you have a far better chance of being successful if you become as familiar as possible with the setup, gameplay, general flow, and betting options. Many of the best online casinos allow players to test their games out for free. They will give you free demo credits, and you can experience the game just as it would be playing with real money, only without putting any of your real money on the line. We recommend you play the free version for a little while before playing the real money version, because it can be the difference between walking away a huge winner or missing out on what could have been.
How Much Can You Win?
This is definitely going to depend on the type of player you are. If you go with the more conservative betting choices, the house edge is a mere 1.4%, which is one of the lowest in the casino. If you use a progressive betting system or just adjust your bets when you're feeling hot, you could walk away with a good amount of steady winnings. If you're more of a high roller player, all it would take is one lucky win, like the incredible specific triples payout, which has players walking away with 180 to 1, near-jackpot level winnings. To put it in perspective, if you bet $5 on specific triples and win, you'd have $900. The odds are the lowest in the game, but few table or card games can compete with that winning potential.
Final Thoughts
The best way to be successful at Sic Bo is to practice first, and to set strict limitations on your gambling. Set a timer and stop for the day when it goes off, and walk away when you've built up a good amount of winnings or lost as much as your budget (always set a budget!). Sic Bo is a lot of fun if you play it smart. Let's be honest, it's hundreds of years old. Who could argue with that kind of staying power?
Casino menu
Best bookies