Legal Situation with Online Gambling in Australia
The emergence of online gambling as a new type of hobby has given people all round the world a new and exciting way of spending their leisure time.
However, the varying legislation in place in different countries has led to some confusion about the legal status of online gambling. In the case of Australia, land-based gambling has long been a popular activity and it has now been joined by online playing as a way that many Australians pass some time. So, is it legal to play online there?
The Laws on Internet Gambling in Australia
The most important law that we need to consider here is known as The Interactive Gambling Act (2001). This law was passed by the Australian Commonwealth Parliament in order to protect the public in the country from the potential dangers of online gambling.
Betting has traditionally been extremely popular in Australia and the government brought out this law to ensure that easy access to internet sites didn't lead to widespread betting problems.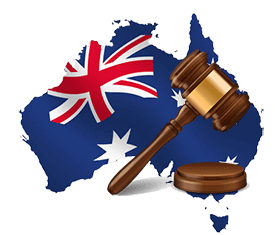 Crucially, this Act doesn't make it strictly illegal for residents of Australia to gamble on the internet. Indeed, this is now a booming business in the country. The amount spent on online games by Australians isn't properly registered but it is said to have been around $800 million in 2010, with this figure coming from the 2010 Productivity Report brought out by the Australian Government.
Some sources suggest that up to 80% of the country's population gambles online at least once a year. It isn't illegal for them to do this, although it isn't 100% clear whether the foreign operators who offer them places to play online are acting completely within the spirit of the law.
This piece of legislation from 2001 is aimed at the companies that operate the casinos and other gambling sites. It makes it clear that it is an offence to offer online gambling with real money stakes to people living in Australia through any medium. The operator can be fined $1.1 million for breaking this law, while individuals in the company can be fined up to $220,000 per day. This applies to both Australian companies and foreign operators.
On the other hand, companies based in Australia can offer gambling services to residents of other countries, depending upon the laws of the other country in question.
The law doesn't cover betting that isn't interactive. In this way, sports betting and lotteries are excluded, as the bet is made before the action takes place.
Taxes on Gambling Wins and Losses
While the taxes paid by land-based betting operators are significant in Australia, individuals do not have to declare their winnings or losses. This applies regardless of whether they win online or in a bricks and mortar establishment.
This is partly because betting is a viewed as a hobby and partly because it is viewed as someone benefitting from good luck rather than earning income.
The Future of Online Gambling in Australia
Gambling has traditionally been a powerful and divisive subject in Australia. A lot of the debate to date has been around land-based gaming, though.
There is a feeling that, at some point, the government will have to look at the situation with online gambling and clear up the potentially grey areas that are currently present. If this happens there are sure to be strong arguments made on both sides of the debate.
Casino menu
Best bookies