Online Casino Safety
The number one most important thing when deciding to play at an online casino should be the assurance that they are legitimate. Your safety as a player should be your primary concern, and any online casino that doesn't put a particular emphasis on player safety is one that you will want to avoid.
Here are the ways to tell if a casino is safe.
Encryption Technology
The moment the Internet became secure enough for online banks to safely allow customers to transfer money, online casinos started to pop up. This was as early as 1994, and since then the security and safety has only gotten better. Reputable online casinos will showcase their security measures in a clearly designated page on their site (labeled "Security" and/or "Privacy Policy"). This can involve 128-bit encryption technology of the same caliber big banks use, as well as certifications from third-party regulators, like iTech Labs and others.
Third Party Recommendations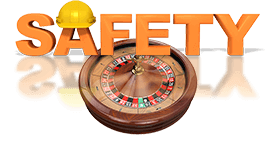 One of the most sound ways to know if a casino is safe and secure is by visiting third party sources, like review sites like this one, as well as player forums. When a casino is hailed by the gaming community—both in terms of safety and withdrawal consistency—you can confidently dive in and start playing.
Online casino players are passionate, and they can make or break a casino by communicating their personal experiences around the web.
Responsible Gaming
An industry standard implementation known as "Responsible Gaming" will be put in place in all reputable online casinos. These policies ensure player safety that goes beyond simply protecting personal information. They include preventing anyone under the age of 18 from registering, and putting measures in place to detect age misrepresentation. Tips and valuable info will also be listed that tells players if they have a gambling problem, even offering the choice to be banned from the site temporarily or permanently, as well as referring problem gamblers to helpful resources like gamblersanonymous.org.
The Software Provider
The top software providers are careful about who they partner with, and they make sure that any online casino they power has all the regulations and security measures in place before agreeing to become a partner. Check out our list of the top software providers to learn more about them, and keep an eye out for their name when deciding on an online casino. If you see that MicroGaming, PlayTech, BetSoft, NetEnt, or Novomatic is the software provider, you can pretty much rest assured that you're entering a safe casino. While following these other precautions are necessary in combination, seeing one of those gaming providers alone should provide an exceptional amount of confidence, as they have the best reputations in the industry for good reason.
Operations Jurisdiction
Certain countries have different restrictions and regulations when it comes to online casino operations. When deciding on an online casino, be sure to check what country their headquarters are located in, then check to see what kind of regulations that country has put in place. Australian players can rest assured that their country practices strict regulations, as do the Isle of Man, Gibraltar, and Malta. On the other hand, Curacao and Costa Rica are two countries with looser restrictions. Some countries also fall somewhere in the middle.
Legitimacy Seals
At the bottom of an online casino, you should see legitimacy seals from third-party sources, presented to every player on every page for full transparency. The more seals they have, and the more reputable the companies that those seals represent, the safer the online casino is. These third-party sources include Gaming Associates, Gamblers Anonymous, Betting Partners, Visa, MasterCard, and many others.
Casino menu
Best bookies