Live casino
A live online casino takes the virtual convenience of playing your favourite casino games from the comfort of home, and combines it with the in-person action of a brick-and-mortar casino experience, with real people, real tables, and real cards. Some of the most popular table and card games can be played in this unique form, which means that no matter what game you prefer, chances are you will be able to find the live casino version.
How is it Different?
Normally, when you enter an online casino, every game you play is presented with 3D graphics and animation, relying on mathematically perfect algorithms to match the same odds as playing the game in real life. At a live casino, players bet on games that are being broadcasted live, with real life, actual human dealers that play the physical version of the game while you and other players place virtual bets. You can interact with the dealer and the other players, providing an unmatched experience that truly feels like sitting at a physical table. If you were wondering when it would be possible to go to a casino in your pyjamas, today is your lucky day. Betting and winning real money is always thrilling, but taking the video game element out of it and replacing it with the real thing brings it to a whole new level.
Which Types of Games Are Available?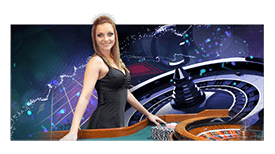 The options offered at live casinos are limited to Live Blackjack, Live Roulette, Baccarat, Poker, and Sicbo, which, to be fair, is not very limiting at all. They took some of the most popular and iconic games in the world and crafted a smooth, impressive live version you'll want to check out if you like the electronic and brick-and-mortar versions.
In Live Blackjack, each player is dealt two face-up cards and attempts to beat the live dealer. In Roulette, you can watch the ball spin around the wheel and come clacking to a stop in real time. Live Poker is the only one that doesn't match the traditional version exactly, as you place bets that result in payouts based on the strength of your hand rather than playing against other players. These are the options for now, but more are assuredly around the corner.
Which Types of Games Are Unavailable?
It's strange that craps isn't offered in live casino form at this time, but we're pretty sure it will be soon. Video Poker and Pokies are two games that are electronic whether you play them online or in a regular casino, which means that there would be no conceivable purpose to have those in live casino form. You also can't find traditional poker games where you play against other players, at least not yet, because the logistics of being physically dealt and shown your cards in a game like Holdem is out of the realm of possibility. However, the online casinos offering the live casino experience also offer the electronic version of these games and plenty of others, so you get the best of both worlds.
Where Can I Play It?
Some of the most popular and reputable casinos offer live dealers, like 888, William Hill, Bet365, Unibet, Betfair, Bet Victor, Gala Casino, Betsson, the list of specific online casinos goes on and on. You can also count on seeing some of the industry's most respected platform providers responsible for the experience, including household names like Evolution Gaming, PlayTech, MicroGaming, and more. What was once a brand new concept delivered by a select few is now more accessible than ever. Just make sure that the live casino offers the type of game you want to play, because some do not offer Live Sicbo or Poker.
Casino menu
Best bookies