Gold Factory
Gold Factory is one of the oldest pokies on the market. It's been around for over 10 years at this point so it's a game that lots of players have enjoyed over the years. It has a medium volatility but has one of the biggest wins for a medium volatility slot on the market. On top of this there's plenty of fun involved in the game. It has plenty of engagement included in the title as well as a fantastic bonus round.
With some great wins and a really enjoyable bonus round on offer, Gold Factory is a game well worth trying out. We've taken a deeper look to help you get a good idea of how to play the title. Keep reading to learn more.
Playing the Base Game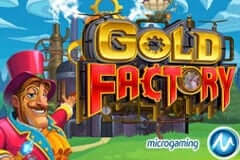 It's very easy to get started with Gold Factory. Just like with all pokies the first thing you need to do is set out your stake. There's a decent range available in this game, you can wager between 0.25 and 20.00 when playing the game. While it doesn't hit the super high levels that some slots offer, it still has a decent wager range in place.
What really helps to set Gold Factory apart is the paylines on offer. You can get 50 ways to win on every spin, which really goes above the market average. This means you have more chance to create a win on each spin than a game with fewer paylines.
Wilds and scatters are both included in Gold Factory. It means that it has everything most players expect from a video slot. You're able to use wilds to help you create wins on the reels and the scatter will take you to the boiler room bonus. Here you will be able to access two different bonus rounds.
Bonus Features
There are two bonus features included in Gold Factory. Each of these are reached through the boiler room bonus. This begins when at least 3 gold coin scatters land on the reels. You will then be given 12 cards to choose from, with a maximum of 4 choices allowed to be made.
The first bonus that you can reveal is the free spins bonus. This will give you the chance to win up to 35 free spins. During the free spins any wins that you create will be instantly multiplied by 2, so it makes it a lucrative round.
The second bonus that's offered is the reactor room. When you enter this round you will choose from a selection of options. Under the cards are either broken symbols or prizes. The round will keep going until you reveal two broken symbols at the same time. When this takes place all prizes that you have won will be counted up and awarded to you.
Strategies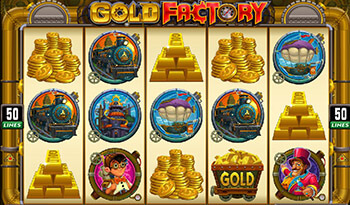 It's not possible to develop a strategy that will win on pokies every single time. Anyone who says this is possible is lying to you.Slots use an RNG to determine each spin, so the maths model behind the game means it doesn't take note of previous spins when calculating what will land on the reels. While you're not able to guarantee wins, you can improve your chances of winning in the long run.
The first way to increase your chances to grab a big win is to set a sensible budget. By budgeting correctly and making sure your stake is set at a level that gives you a large number of spins you will improve your chances. This is because the bigger wins are available through the bonus rounds. The more spins you are able to carry out, the better your chance of starting the bonus round. This is why budgeting is so important.
In order to set a sensible budget you might want to play through the game a few times first. This can work out expensive, so it's always a good idea to play the demo version first in order to work out the right budget for you. This will give you the chance to play through the game and work out a general idea of how long it takes for the bonus round to begin. Of course, the spins are random so nothing will be guaranteed, but with a general idea you will be able to set your budget more appropriately. This won't deplete your budget and will allow you to have a better chance of getting the biggest wins.
Overall
Gold Factory might be one of the older games on the market but it still has a lot to offer. The visuals are impressive, it has fun bonus rounds and the maximum win of around 3,000 times your stake is great for a medium volatility game. If you want to try an old classic then this Microgaming game is well worth your time.
Casino menu
Best bookies