Miss Kitty
Miss Kitty is one of those hidden gem, deceivingly tame games that you can only truly grasp by playing it. It's understandable first impression would be an eye roll, and then to go to something more masculine, but trust us when we say that that would be a big mistake, because this kitty has some serious claws. From the incredible betting freedom to the enormous number of lines to the knowledge that you're playing a game from the masters of video Pokies designers, there won't be a moment of boredom, and with the high return to player, you'll assuredly see some great winning turnaround to your bets if you have even a mild lucky streak.
Who Makes It, and Where to Find It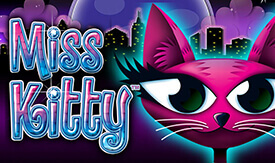 When it comes to playing Pokies in Australia, whether at a brick-and-mortar location or from your computer or mobile device, Aristocrat Technologies never disappoints. This seems like an exaggeration, but when you have 60+ years of experience and have a reputation of always being on the cutting edge of gaming innovation, it's no exaggeration, it's just the truth. You can find it at several online casinos, and at almost all casinos who partner with Aristocrat specifically. Because the software designers have such close ties to Down Under, you are almost guaranteed to be able to play this favourite in AUD, which is always a bonus.
General Setup and Design
This game is five-reel and 50-payline, making it one of the most in-depth Pokies you'll find online. The strategic planning before you press the spin button is key, as the more lines you choose to play, the more chances you have to win, as each line pays out individually. It is also important to note that the higher your line value, the higher your payouts will be, as they come in the form of multipliers. You can value your lines at $0.02 all the way to $4, so you could bet as much as $200 a spin. That's pretty high and outside of most players' budget, but we highly recommend that rather than decrease the number of lines you play, you decrease your bet per line when playing in budget. For example, if your budget is $5 a spin, play all 50 lines and set the line value to $0.10, rather than setting your line value to $1 and playing five lines.
Specialty Symbols and Fixed Payouts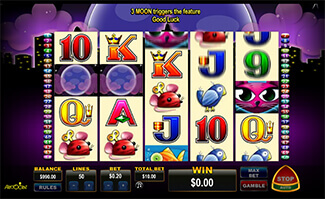 Miss Kitty has both the Wild symbols and the Scatter symbols. The Wild Cat symbol can take the place of any other symbol to create winning combinations, except for the Scatter Moon symbol.
The Wild symbols appear on all reels except the first, and the Scatter Moons appear on the first, second, and third reels. If you line two or three Scatters up, you receive a payout on your total wager, not your bet per line, which can be a massive bankroll boost. The largest fixed jackpot during normal play is lining up five goldfish, which results in a 100x multiplier.
Progressive Jackpot & Bonus Game
Miss Kitty is not attached to a Progressive Jackpot, but the winning potential is too high for us to care too much about that, especially when you consider the free games feature. If you line up three Scatter Moon symbols, you not only get the total wager multiplier, but you also trigger 10 free spins. If the Wild Cat appears on the reel, it takes up the entire reel and stays there for the rest of the free spins, and better yet, you can retrigger the free spins again with three Scatter moons for an additional five spins and another total wager multiplier. Needless to say, with a little luck on your side, you could walk away with some serious money when you hit that free spin feature, and it didn't take long at all before we triggered it.
Casino menu
Best bookies