Lucky88
Lucky88 is a mystical Chinese-themed Slot machine that sets itself apart from the throngs of other Pokies, inspired by the Chinese number for luck and fortune. It swells with winning potential, and its design is comparable in quality to Pokies crafted by the largest software companies in the industry despite being developed by a somewhat lesser known developer. A cool thing to note is that the developer is actually an Australian company, and you can find Lucky88 not just online, but at your local casino and some pubs too, if you happen to be so lucky. With the specialty symbols, bonus rounds, exciting setup and design, and massive betting freedom, it's no wonder Lucky88 consistently gets the thumbs up from players around the world.
Who Makes It, and Where to Find It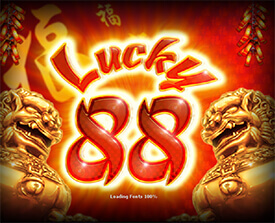 Aristocrat Technologies, one of Australia's largest Poker Machine companies, is responsible for the highly popular Lucky88. This company started making Pokies before they were digital, developing pull-lever mechanical Slots as early as 1953. Since then, they have stayed on the cutting edge, producing some of the most popular options in online and land-based casino play alike. This means that you can find Lucky88, as well as their many other options, at several online casinos, including casinos that we recommend, casinos that are specifically tailored toward the Australia online casino community. You will find them in most of the brick-and-mortar casinos as well, and we wouldn't be surprised if your local pub or hotel had an Aristocrat game or two. While titans like Microgaming and Playtech has the notoriety, anyone who is familiar with Aristocrat's graphics, animation, and sound effects will tell you they don't just stand up to their strongest competitors, they often surpass them.
General Setup and Design
Lucky88 has a nice bit of depth, with 25 paylines, but the betting freedom is the true standout, letting players set their coin value to as little as $0.02 all the way up to as much as $4, which means your overall wager can be a mere $0.02 to as high as $100, unless you also play the Extra Choice, which is essential if you want to unlock the bonus features, but will bring that bet up to an extra five coins, making the max bet $120. This is especially useful if you consider the lower payouts, but the higher Return to Play (RTP), which is one of the highest you'll find in terms of Pokies at online casinos. It's important to note that the more lines you play, the more chances you have to win, and the higher your value per line, the higher your payouts will be. When you do get a payout, firecrackers will be set off around the reels, which can also trigger multipliers, and some symbols even do a little animation, keeping things visually stimulating as you rack up the winnings.
Specialty Symbols and Fixed Payouts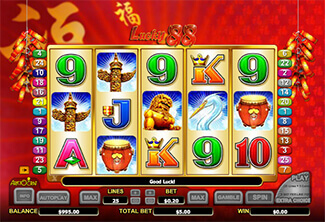 By betting the maximum of $4, you stand to win $352 if you line up five of one of the three symbols that trigger this fixed jackpot, as they pay out 88 coins.
The second highest is 78 coins, and even lining up five 9s, the lowest five-across payout, will result in 48 coins, which is $192. This isn't even considering the firecracker multipliers, which can knock those winnings up by 3x, which can get you thousands in winnings if you're playing multiple lines and get a few higher payouts.
Progressive Jackpot & Bonus Game
Lucky88 does not have a progressive jackpot, which could be a disqualifier for some players, but they do have one of our favourite bonus games. If you play the extra choice option, you will have the option to gamble or to play on, and if you get a specific combination of symbols, you unlock different features, like multiplier payouts or free games. With the multipliers on the fixed jackpots on top of the bonus games, the winning potential on Aristocrat's famous Lucky88 is definitely worth giving it a try, especially since you can test it out for free before you play with any real money.
Casino menu
Best bookies