Book of Ra
Book of Ra is one of the most classic video slots on the market. Created by Novomatic it has managed to take on almost iconic status at this point. It has a decent payout level and a very enjoyable bonus round. It's managed to keep players interested over a long period of time and the game has such a standing within the industry that it has been the inspiration for a number of other pokies.
We've gone over every aspect of Book of Ra to make sure that you are completely up to speed with what it offers. Just keep reading our guide and you will understand exactly how to play Book of Ra.
Playing the Base Game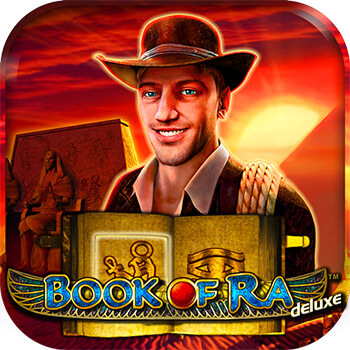 Starting to play Book of Ra isn't a difficult concept. All you need to do at the start is set your stake. You're able to wager between 0.09 and 90.00 on every spin. It does mean there's a good range on offer here. So players with small budgets and players with large budgets will both be easily able to play this title. Once you've set your stake it's a case of spinning the reels and starting to play.
You're also able to use an autoplay button. This will spin the reels for you and remove the need to spin it manually on every game. You will need to manually start the bonus round if it is activated though.
Book of Ra has 9 paylines in play. This is a bit below other games on the market and is the only real negative about the game. The paylines are used when at least 3 symbols that are the same land on a payline next to each other. The paylines pay out left to right, so if they start at the right hand side it won't create a win.
Book of Ra has both wild and scatter symbols included. The wild symbol acts exactly as you would expect it to. Whenever it is in the position to help create a win then it will do so. The scatter symbol is all about starting the bonus round. This will award free spins and give you the chance to get some extra wins.
Bonus Features
There's just one bonus round included in Book of Ra. It's the standard bonus round that most players expect from pokies. Whenever at least 3 scatter symbols land on the reels then a free spins round will begin.
When the scatters land, players are awarded 10 free spins. On top of that a symbol will be selected at random to become stacked. This means that potentially you can completely fill the reels with a single symbol during the free spins. If this happens then all 9 paylines will be active and a large win is paid out.
The free spins cannot be retriggered from inside the free spins round. So the scatter doesn't appear during the bonus round and it isn't added back to the reels until the free spins end.
Strategies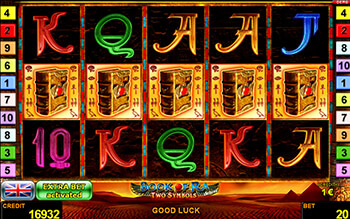 Because Book of Ra uses an RNG, it's not possible to predict how each spin will land. As such, you can't work out a guaranteed strategy that will create wins on every spin. It's not like Blackjack where some skill is involved in the game. However, what you can do is carry out some strategies that will make it more likely that you can play for long enough to grab the biggest wins in the game.
The main way to do this is to manage your bankroll. It's a simple fact that the more spins you play, the more chance you have of landing the bonus round. So, if you're able to set your budget at a level that will give you the most spins possible, you will have a better chance of playing long enough to start the bonus round.Because this round makes it easier to create big wins due to the stacked symbols, this is definitely the round you want to be aiming for.
A great way to work out how many spins you are likely to need is to play the demo version of the game. This will allow you to work out an average of how many spins you need to activate the bonus round. While it's not a guarantee, as the random nature of the game makes this impossible, it will give you the chance to see how likely it is. The best thing about the demo mode is that it doesn't cost anything, so you won't use up your budget getting to grips with how the game plays.
Overall
Book of Ra is one of the most interesting games on the market. While it has a lower number of paylines than many other titles, it does have a lot going for it. The bonus round with stacked symbols makes it extremely interesting. This is a classic title that's well worth trying out.
Casino menu
Best bookies