Where's the Gold
It's tough to say which is the most popular category for Slots. It could be sports, pop culture, fantasy, or just standard fruit and number of symbols. However, in terms of very specific themes, gold mining and the California Gold Rush may well be the most popular, and Where's the Gold is definitely one of the best Pokies in this thematic niche. When one thinks of all the features that you can combine to create the greatest all-around Poker machine imaginable, it's no doubt that each of us have something a bit different in mind. With that being said, it wouldn't be too bold to say that each of us are picturing something close to what Where's the Gold offers.
Who Makes It, and Where to Find It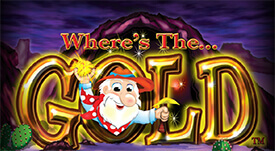 Aristocrat Technologies is one of Australia's finest, and their games have wowed players from all over the world, specifically those who enjoy high-quality, immersive, and, most importantly, winning Pokies. You may find one of their choices in a physical location not far from home, or from the comfort of home, because this decades-old innovator provides gaming options for both preferences. Most online casinos that are not tied to a specific software company, while also being tailored to Australian players in particular (like our recommended online casinos), will offer Where's the Gold, as it's one of the most popular non-progressives in the industry, crafted by one of the most notable software companies in the world of online gaming. The team at Aristocrat are masters at enticing, and with the high return to player and the concept of uncovering gold, Where's the Gold brings the feeling of richest being around the corner more so than most.
General Setup and Design
Where's the Gold is a 25-line, five-reel Pokie with symbols that range from horse and buggy to pickaxes to Gold Miners to standard card symbols, all set on a wonderfully colourful and engaging backdrop of the California desert at sunset. Keep in mind that the more lines you play, the more chances you have to win, so it is recommended that when staying within budget, to adjust your bet per line rather than the number of lines you play. The bet range is from $0.02 (the minimum wager requirement) to $4 per line, making the maximum amount you can wager $100, a true high-roller bet. Set both values and press the spin button to begin.
Specialty Symbols and Fixed Payouts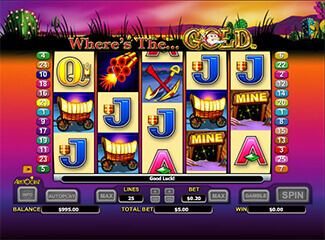 Check out the different combinations of symbols you are going for in their help menu, where you can also find a detailed instructional on the ins and outs of the game. The standard fixed jackpot is 1,000 coins, so if you bet $4 per line, you stand to walk away with $4,000 if you line up five Gold Miners along a line. However, the Dynamite Scatter symbols pay out on your total wager, not on your bet per line.
If you line up five of those, they pay out 50x your total bet, meaning if you are betting the max, you can walk away with $5,000, the most you can win in the game on a single spin! The rest of all the payouts are detailed in the Help menu. If you do receive a payout, you can also choose to "Gamble" the winnings by choosing a black or red cad. If the card you choose is stronger than the dealer's, you double your winnings, but if it's not, you lose it all, so be careful on doing that with high payouts.
Progressive Jackpot & Bonus Game
There is no Progressive Jackpot in Where's the Gold, but there is a very exciting Bonus Game that can end in some serious bankroll boosting, and it turns out to be a particular standout in this already exciting game. If you line up three or more Scatter Dynamites, not only do you win that total wager payout, you also trigger the game. You choose a character that fits in with the theme, and at random, you can win up to ten free games and up to three Wild Gold Symbols. The wild gold symbols take the place of established symbols, and then they can take the place of any symbols to create winning combinations, except for the Dynamite Scatters. You can also retrigger another bonus during the bonus!
Casino menu
Best bookies