Wild Panda
Panda bears are cute from afar, but get too close, and they can become viscous. With that being said, Wild Panda is one of those Pokies that are as approachable as it gets, with a fun theme featuring one of nature's most fascinating creatures, and the potential to win the most enticing thing of all: lots and lots of money. From the insane number of paylines to the bonus rounds and exceptional winning potential, this adventure in Pokies paradise is not for the faint of heart. And don't think the approachability means it's for newbies, as even the most seasoned veterans will have a tough time finding a more in-depth option.
Who Makes It, and Where to Find It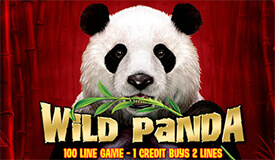 Aristocrat Technologies is one of Australia's most famous, trusted, and popular software providers for the Pokies market, and their consistent delivering of some of the world's most stunning titles make them a force to be reckoned with no matter who you stand them up against. An industry staple of the gambling world since 1953, they have remained a household name among players, experts, professional gamblers, and fellow software developers alike with their online casino prowess.
Wild Panda is one of those games that showcases their masterful level of design capability like few else, and since you can find it at most online casinos that are specifically tailored with the Australian player in mind, you will no doubt come across their extensive and breathtaking catalogue. If you see any of their games, play it for free at least, because they are almost always worth looking into. If you see that they partner with your go-to online casino, look for one of their flagship products: Wild Panda.
General Setup and Design
Wild Panda has a massive 100-payline and five-reel setup, which is just insane. You will be hard-pressed to find more than 50 lines much less twice that. This is why this game is particularly popular among newbies and Pokies sharks alike. For the former, no Poker machine will seem daunting after this one, and it has the depth to keep any vet entertained. Beyond that, the design is remarkable, featuring the same level of graphics, sound effects, and animation we've all come to expect from the masters over at Aristocrat Technologies. The interesting setup though is that the minimum number of credits you can play per spin is 10, covering 20 lines, and the maximum is 50, covering all 100 lines.
Specialty Symbols and Fixed Payouts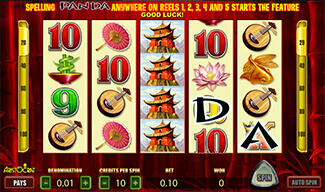 Four of the symbols of the game actually spell out the word Panda, with the P appearing on the first reel, the A appearing on the second and fifth reels, and the N and D appearing on the third and fourth reels, respectively. The fixed payouts on this one range from 10 coins to as many as 1,000, which is the fixed jackpot. With the max bet of $1, this means that you can instantly win $1,000 playing Wild Panda, whose symbols consist of plenty of Chinese symbolism and lucky winning potential to really bring the immersion home. In fact, when the Panda symbol pops up, the adorable little thing chews on a stem of bamboo, which is more than just a little fun to watch. It also happens to unlock the free spins feature, which we delve more into in the bonus game section.
Progressive Jackpot & Bonus Game
There is not Progressive Jackpot with the Wild Panda slot, but the fixed payouts and high Return to Player (RTP) make up for that fact, especially when you consider the utter unlikelihood of landing a Progressive Jackpot. In terms of a bonus game, if you spell out the word "PANDA" across the reels, you unlock a certain number of bonus games, where other symbols can become equal to the Panda Wild symbol, and multipliers ensue, almost guaranteeing payouts for crazy high winning potential. In fact, the fixed jackpot is 1,000 coins in regular play, but up to 2,000 coins during the bonus feature! You could win up to $2,000 in a single spin! That's enough to take a trip to China and see a panda in person.
Casino menu
Best bookies