Gold Miner
Gold Miner is the cousin game to some other California Gold Rush themed choices, but its cousins get a little bit more in-depth and complex. For those who are a fan of the look and feel of choices like Where's the Gold and Gold Mine Pokies, Gold Miner might be the choice for you if you're looking for something a bit more bare-bones, straightforward, and limits you on budget. Here are the ins and outs of this favourite, a game players new and old still discover for the first time, and consistently come back to, even as they explore the other options.
Who Makes It, and Where to Find It

Aristocrat makes this simplified Poker machine, which comes as no surprise, because it's clear that it was a stepping-stone to the more complex options. Aristocrat has a reputation of taking every taste and interest into account when they produce their games, and they have kept that reputation alive since their founding day in 1953. Offering Gold Miner is a testament to this reputation, a game that sticks out and is unique because it's so straightforward.
While you can find immersive 3D Pokies with crazy bonus games, huge progressive jackpots, and specialty symbols you've never seen, you can also just keep it simple and enjoy the art of the spinning reels and lining up the symbols. Aristocrat has both, and you can find Gold Miner at most casinos that offer Aristocrat games online. Furthermore, since Aristocrat Technologies produces physical machines in Australia, you may well find Gold Miner at a land-based casino, pub, hotel, or the like.
General Setup, Design, Payouts, and Features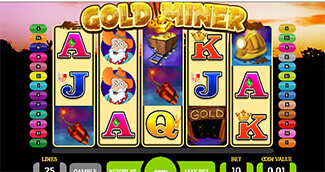 Gold Miner is a five-reel, 25-line Slot, but what makes it truly cut and dry isn't that it's one of those basic three-reel with the payouts above it, it's the fact that it doesn't have any Wild symbols, Scatters, Bonus Games, Progressives, or even free spins. Instead, you line up symbols across the 25 lines, which we recommend you play all of. Even if you bet the absolute max, you will be playing with $0.20 a line at 25 lines, you're only playing with $5, but with the minimum line value of $0.01, playing the max lines is $0.25, and you'll have 25 different chances to win. The Gold Miner himself wins the max payout of 15,000 coins if you line up three of him, which gives you a $3,000 payday if you bet max. Not too shabby at all! If you do get a payout, you can also take advantage of their "Gamble" feature, where you can go double or nothing by choosing a random card, and hoping that card is stronger than the dealer's.
And there you have it! It's about as simple as it gets. For brand new players, this is one of the perfect Pokies to get you acquainted. If you've been playing Slots for years, this will give you some nostalgia and may become your new favourite. That is, unless you were just reading this to make sure we gave your top choice its due praise.
Casino menu
Best bookies