Betting On Golf
One of the awesome things about betting on golf is the fact that golf tournaments are going on all year round, which is pretty unique to the sport. Some of the world's biggest tours also travel through Australia, not to mention the tournaments played Down Under, and all of them have plenty of betting action for you to get it on. From the local favourites to the global titans, you can bet on a player and win a lot of cash, and with the versatility of the betting options, it's appealing to both brand new online bettors to those who have been doing it for a long while.
How Betting On Individual Players Works
Betting on individual golfers is similar to futures betting with team sports. Normally, you would bet on a specific golfer or specific golfers. If they win the tournament, you are paid based on their money line. The money line is represented by a number with a plus (+) symbol next to it. This is how much you stand to win based on a $100 bet. But you won't see any minus symbol (-) numbers when betting on individual players, so even though there are favourites, you stand to win a lot of money, even if you go with the safest bet. For example, if the favourite player is +225, you bet $100 on them, and they win, you walk away with a $250 win.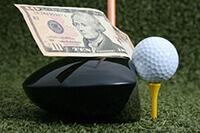 If the player who is least likely to win is marked at +100,000 and you place a $100 bet, you would win $100,000. Always remember, the lower the payout, the more likely the bookmaker thinks the player will win, and the higher the payout, the less likely they are to win. An advantage of betting online is that you can type in the bet you want to make and see how much you stand to win, so don't get caught up in the $100 to the + number. You can bet a single dollar and still win some cash if you wanted.
How Betting On Golf Teams Works
Certain tournaments, like the Ryder Cup, for example, have a betting format that is identical to a team sport format (though you won't normally see point lines, just money lines). The favourite team will have their payout number marked with a minus (-) symbol, and the underdog will be marked with a plus (+) symbol. If you bet on the favourite team, you will receive less of a payout if they win, but they have a better chance of winning. If you bet on the underdog and they win, you win more than you would have betting on the favourite. Simply type in your prospective bet before you place it to see how much you could walk away with. You may also be able to bet that there will be a tie, and that payout number will be huge, probably 1000+ or more. That's because it's very unlikely, but not impossible. A $1 bet would pay out $10 on a 1000+ money line, so it might be a good insurance bet.
Specialty Bets
Golf has some very interesting specialty bets that you might want to look into. They're fun and add a nice extra layer to the betting options. You can bet which player or which team takes the lead first, whether or not a specific player will place in the top five of a specific tournament, the first team or player to go two up, and so on. At the very least, they're worth scrolling through. One might strike your fancy, and if not, you'll have plenty of standard bets to think over, and plenty of different rounds and tournaments at your disposal.
Where and When to Bet
In terms of where to bet, we have the safest, most secure, and very best online bookmakers specifically tailored toward Australian players listed on our site. We've vetted them to make sure they hit the nail on the head at every level, from design to options to accessibility to customer support and reputation. Beyond that, you can choose to go with a traditional bookmaker or with a betting exchange. We recommend the bookmaker for the casual bettors, but if you have a mind for trading bets and betting against the casino and so on, a betting exchange may be the better option, though extensive reading and knowledge is ahead of you. When to bet is literally any time of the year. There's always something golf related to place money on.
Casino menu
Best bookies