Ladbrokes Bookmaker

Ladbrokes was founded in 1886, and if there's an older online casino company, we aren't aware of it. They didn't start offering their gambling expertise online until over a hundred years later, as the Internet needed to be invented first, but that kind of name brand staying power is nothing to overlook. They are based in the UK, are traded on the London Stock Exchange, and merged with Gala Coral Group in 2015, making them one of the largest online betting sites on the planet.
Their Sportsbook
Ladbrokes has an enormous sportsbook and cover every sport that you can bet on, as well as entertainment and political bets as well. Whether you are trying to bet on the Ryder Cup or the Rugby Union; soccer, baseball, or basketball; horseracing, greyhound racing, or car racing, they have you covered. It's a variable one-stop-shop of everything sports, including live betting.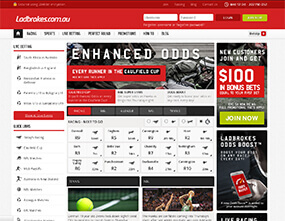 Their traditional sportsbook is easy to navigate and features the same intuitive and clean setup that we're used to with all the major websites we rely on, which makes finding the sport you want to bet on lightning quick.
They have the specialty bets, futures, and standard moneyline and points spread bets you've come to expect if you are familiar with online sports betting, and you can simply type in the amount you're thinking about betting and see what the payout will before you even need to place your bet. Ladbrokes also offers Australians the opportunity to play at a betting exchange, which is an advanced form of a bookmaker where you can trade like you do at the stock market. It's a more complex method of betting, but many players swear by it, some even claiming you make more money in the exchange than at the sports book.
Accessibility
Not only is Ladbrokes a fantastic bookmaker, they also offer every other facet of online gambling, including casino games like Roulette, Blackjack, and Pokies, as well as Poker rooms, live casino rooms, Bingo, the lottery, and more. You can use your same bankroll that you use for the sportsbook with all of their other sections. This makes them one of the most accessible sites in the world of online betting, and they can be accessed from both your computer and your mobile device from anywhere with a Wi-Fi, internet, or cell phone service connection. They allow you to deposit and withdraw with the most popular and convenient payment methods, and they offer the opportunity to play in Australian dollars, which is always very convenient, as you can avoid exchange fees. Whether you prefer MasterCard or Visa, or are more predisposed to e-wallets like Neteller, Skrill, and Paysafecard, you can get in on the action instantly. Ladbrokes also employes state-of-the-art SSL encryption to ensure the utmost in player safety, security, and confidence.
Promotions
The sportsbook promotions at Ladbrokes are far and wide some of the best we've seen. They will match your first bet up to $50 for their Welcome Bonus, which certainly isn't anything too impressive, but within the other promotions is where they really shine. The 5 team insurance bet gives you free money if one of the teams loses, they give you daily price boosts you can use any time during the 24-hour period, the horse racing promos never fail to wow, and their first goal scorer bet promos can be incredibly lucrative. This is all without mentioning their impressive VIP comp points program, and all the promotions they offer at the casino, bingo, and poker rooms. Ladbrokes knows how to attract and retain players, with new and exciting promotions coming into your mailbox every week for you to take advantage of. While there are obvious rollover requirements before you can withdraw your winnings if you utilize the promotions, they are on the lower end of the spectrum when compared to other casinos, making them more recommended than pretty much anywhere else.
Great for Australian Players
Ladbrokes is an international household name, and that's because they have features that appeal to every online bettor no matter where they are in the world, their preferences, their style of play, their budget, their preferred method of payment, and what they expect from the promotions. Australian players are no exception, and with over a hundred years of experience, the best third-party independent audits, and one of the most respected and revered reputation on the web, you know you're in good hands here. We only recommend the best of the best. When a brand has been known as one of the best and the best for this long, you know they belong in the top. Good luck and have fun!
Forget about: "May the best team win." May your team win.
Casino menu
Best bookies