William Hill bookmaker

William Hill is one of the most popular bookmakers on the planet, an internationally renowned brand that was founded in 1934. They are based in London and traded on the London Stock Exchange, and their regulations, oversight, third-party audits, and stellar player and expert reputations make them a true powerhouse of the online casino Australia sports betting industry. Few online betting outlets boast a stronger notoriety or level of player confidence, and their sportsbook is easily one of the best of the best.
Their Sportsbook
While in-play betting is banned in Australia-based online casinos, it's not banned pretty much anywhere else that allows sports betting. At William Hill, you can take advantage of their exciting in-play betting options, wherein players can place bets while games are occurring in fast and instant schematics with high winning potential. The blow of the whistle doesn't start the game and end your betting, it starts the game and starts some exciting new betting options. Your bet slip always sits on the right side of the screen, making it easy to quickly and easily find and keep track of the bets you've placed on their near-endless list of gaming options, which ranges from tennis, snooker, and golf, to rugby, football, and cricket. At William Hill, you can even bet on the outcome of political elections, as well as television events, like the Oscar winners or "who dies next" on a specific TV show. You can also take advantage of their live stream TV known as WHTV, where you can flip between the games you've bet on to watch the action in real-time, increasing the excitement level to new heights. While William Hill offers horse and greyhound racing in pool-style, big-payout formats (all year round), they also have a virtual racebook, so you can always be betting at the track, even if there's no race going on. The options are virtually endless at this virtual betting go-to.
Accessibility
We only recommend bookmakers and online casinos that are specifically tailored for, and available to, players in Australia. But the accessibility of these carefully selected, highly secure betting outlets go beyond just your ability to register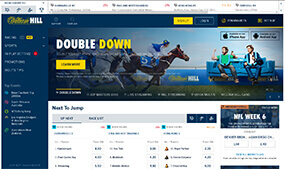 – they offer the chance to bet from your phone or your computer, in Australian dollars, and use banking methods specifically selected with Australians in mind. The same is true for William Hill.
The resources offered by this bookmaker also make them more accessible to players new to the world of betting on sports, including articles and how-to instructions that vary from how horse racing works to which players look strong in an upcoming matchup. William Hill also offers a casino, with games like Blackjack, Roulette, Craps, and Pokies; a Live Casino; scratchcards, Bingo, Poker, and more. You can use the same bankroll you used to deposit at their sportsbook at the other sections of the casino, creating an unmatched level of versatility anyone would be hard-pressed to find elsewhere.
Promotions
William Hill is such a large company, the promotions you can take advantage of is dependent on where in their virtual betting lobby you plan on betting. At the casino, you'll find Welcome Bonuses and Pokies-specific promos. In the sportsbook, you'll find the "£5 Free Bet Every Week," incredible money back on losses deals, enhanced odds on your markets of choice, cash in a bet you're not feeling great about, the Super Sub goal scorer betting option, free live racing streams, and in-play radio that can be very informative that's available only to those registered and betting in William Hill.
Banking Options
The banking options at William Hill are just as accessible as the casino itself. They offer the opportunity to play in Australian currency, and let players instantly deposit with Visa, MasterCard, Skrill, Neteller, Paysafecard, and many other convenient and highly accessible payment methods. Their deposit is instant, and you can be betting on sports immediately after you register, but the withdrawal time is a bit lengthy, as their fastest option still takes up to 72 hours to process. That's not exactly forever, but it's three times as long as some of the other online casinos and bookmakers we recommend.
Great for Australian Players
The customer support team at William Hill is phenomenal. They are extremely friendly and knowledgeable, and there is very rarely a wait time to speak with a representative. They have a glowing reputation around the internet for clearing up any and all disputes quickly and fairly, and they even go so far as to publicly respond to issues in independent player forums, which is an impressive gesture. That, on top of all the other aforementioned aspects that make them ideal for the Australian bettor of sports, William Hill isn't just great for those Down Under, they're easily one of the greatest.
Casino menu
Best bookies