Land based casinos
Online casinos have been growing at an incredible rate over the last few years. The ability to enjoy casino games from the comfort of your own home and without having to dress smartly appeals to a lot of players. There's also the added bonus of regular promotions giving players the chance to increase their bankroll significantly. However, despite this increase in interest, it's safe to say that there's still a place in the heart of Australia for land based casinos.
Land based casinos are still the most luxurious way to play casino games. It's not just about the games themselves. It is the variety of services that are offered to players at the same time. Incredible food, spectacular shows and high class hotels. All of this is possible at a land based casino. And while some people might like sitting around in their underwear playing slots, there are also people who like to dress to impress and hit the Blackjack table.
Of course, it's not all just about playing the classic games. You might want to take in a show or enjoy a buffet. You might even want to spend some time at a family section of the resort. That's what makes land based casinos so impressive. There is so much available, although not every casino has the same options.
What is difficult is choosing the right land based casino to play at. With so many around, Australians are just spoiled for choice. It's not just Australians that are spoiled for choice either, visitors to the country will also have a wealth of choice available and might not always be able to find the right one to play at.
Fortunately, we have put together a selection of the top 5 land based casinos in Australia. This will make it easy for you to find the right place to play for whatever it is that you want. Whether you want the height of luxury or you want somewhere with an incredible choice of games, we help you to make the choice. Just keep reading our great guide and you will be able to find the best place to play in no time at all.
We're getting started with one of the true big names within the industry. This is definitely one of Australia's most prized venues.
Crown Casino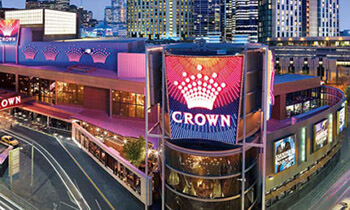 The Crown Casino is located in Melbourne. What really makes this stand out right from the start is that it's the largest casino complex in the entire country. Obviously, not all of this is casino based. The Crown Casino has everything that a family might need. From spas and gyms to shows to world class restaurants. Whatever you might want from a casino, you can get it from The Crown.
There are also three different hotel venues. So, whatever type of stay you are looking for you will be able to find it here. Obviously the casino is the main attraction here and it doesn't disappoint. You can play a huge selection of games in The Crown and this includes everything from Poker to pokies.
The Crown Casino also has a VIP section where high roller players are able to engage with some of the higher stakes games. This is where the real action takes place. Of course, if you're visiting for a family holiday then the VIP section is not likely to be where you will be headed.
Food and drink is also very impressive at The Crown. There's a selection of bars and restaurants available, all of which provide top class refreshments. If you want something a bit high class or if you want fast food you can get it at The Crown Casino. It's not just about the casino and food either. The Crown also has a shopping complex built into the venue. If you want to enjoy yourself in the evening then there are also nightclubs on offer where you can dance the night away.
Jupiters Hotel and Casino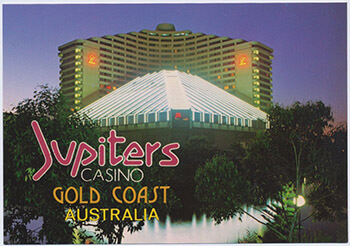 Jupiters is located in Queensland. It's set on just a single level, which does set it apart from other casinos. Most other sites have multiple levels. Jupiters removes that and goes for everything all on one floor. This doesn't mean that it's an insignificant area though. It has plenty to offer visitors. Firstly, the game choice that's available is absolutely superb. You're able to enjoy every kind of game that you can think of. Whether you want to play classics such as Blackjack and Roulette or newer games like Sic Bo, everything is here. There are also almost 2,00 different pokies to play, which means you can spin those reels until your heart's content.
As it's a hotel there's also plenty of other stuff at the complex as well as the casino. There are some great places to eat and drink here. There are some absolutely excellent bars and restaurants, which means you won't go hungry when staying here. The hotel itself is of a fantastic quality. There is luxury in every room and you won't have to worry about a poor quality sleep.
On top of this Jupiters also has great entertainment. It has a theatre on the grounds which it uses to host a range of different events. Everything from movies to plays to musical performances can be enjoyed here. It holds more than 2,000 people so your chances of getting a ticket are extremely high. Jupiters might not be quite as big as The Crown but it still has plenty going for it.
Wrest Point Hotel and Casino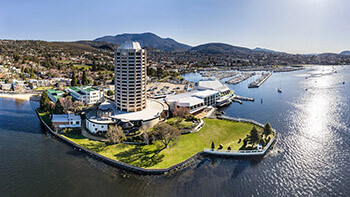 This casino is located in Hobart. While it might not be quite as big and impressive as some of the other sites on this list, it deserves its place for the history it has. Wrest Point was the very first legal casino in Australia. It means that by visiting here you are taking in the historical culture of the country. Of course, if it was just a poker room in the back of a dingy bar it wouldn't be worth a place on the list. That's why it's good to see that it lives up to its name with some fantastic services available.
Firstly, the casino games that are offered here are top of the range. You can enjoy pokies, Blackjack, Roulette, Baccarat and more. During the weekend there are also higher limit tables available as well as Poker tournaments. It's definitely a casino site that has a lot going for it. It is a little bit more traditional than some of the other sites on the list, but if you like playing casino games then this is still the place for you.
The hotel and entertainment are also very good here. You're able to eat and drink at a number of different bars and restaurants. Each has a different theme but excellent services. There are also a range of shows that are offered where you can kick back and relax after a day of playing the tables. Wrest Point is a great place for those that want to enjoy a slice of history with their casino time.
The Star Casino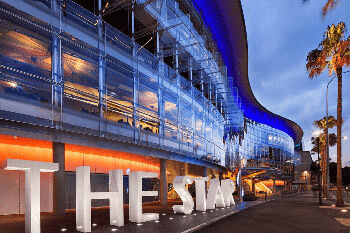 The Star is located in Sydney. This means that it's pretty much a hub for casino players. It's often thought of as the number two site in the country, after The Crown, but it has a lot going for it that makes it a top casino in its own right.
There are plenty of different casino games offered here. You can enjoy Poker, Blackjack, Sic Bo, Roulette and lots more when playing on the casino floor. If you prefer something a little more mechanical then there are also almost 1,500 pokies available to play. It's a great selection of casino games that shows why it is breathing down the neck of The Crown.
It's not just the casino games that make The Star so impressive though. It also has some great places to eat. You can enjoy all you can eat buffets when visiting here, or if you prefer to be a little more reserved there are other options as well. It means there is plenty of variety and food available for every kind of person. Bars are also available if you want to settle down with a nice drink. If you want to get a little bit more raucous then there is also a nightclub offering entertainment.
The Star doesn't finish there either. It also regularly puts on shows for customers. This includes top rated musicals such as Dirty Dancing and the Lion King. Whatever you enjoy you're likely to be able to find something at The Star.
Crown Perth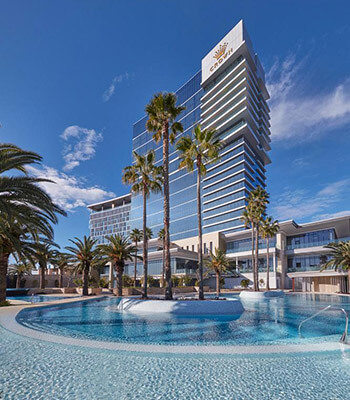 The Crown Perth is the sister site to The Crown that's located in Melbourne. While it's not as big as its namesake, it still offers plenty for players to enjoy. Crown Perth differs from the Melbourne venue in one huge way on the casino floor. There are no pokies available here. This is because they're not allowed within Perth, so Crown Perth has had to find another way around this problem.
Instead of pokies players are able to enjoy mechanical Keno games and video versions of poker and dice games. While it doesn't offer the specific fun that pokies offer, these are interesting alternatives and allow players the chance to sit at a machine and enjoy what's on offer. Of course, it's not just the machines that are offered to players here. There are still traditional casino games available. So if you want to just sit and play Blackjack or Roulette you can easily do this at Crown Perth.
Crown Perth also has a lot of different shows available. Just like The Star it has had Dirty Dancing performed in the past. It also offers live bands almost every single night, although they're not always well known, they are always of a high quality and play some great tunes. The bars and restaurants are of a high standard and it means you can always get something good to eat or drink.
Crown Perth is quite different to the Melbourne venue, but it still has a lot going for it. If you're in Perth then this is definitely worth a visit.
Overall
The top casino here is definitely The Crown Casino in Melbourne. However, this doesn't diminish the other sites here and if you're in the area each one is well worth a visit. While the casinos themselves are normally adults only, many of these venues have plenty of family activities to enjoy. Whatever kind of vacation you have planned, you can find a great venue in Australia.
Casino menu
Best bookies