UPayCard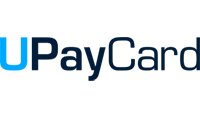 One thing that playing at online casinos has in common is that a payment method is required. In the modern world bank transfers and card payments are still the most common and popular that there is. However, this is changing as more modern methods increase in effectiveness and popularity. When it comes to choosing a payment method there are lots of different things that you have to take into account. How fast the method is, how safe it is and whether it's available to you.
One of the more modern methods that's available to Australian players is UPayCard. This is a payment card company that was formed in 2013. It's therefore one of the newer cards on the market, but with almost 10 years experience it's also managed to build up enough of a good reputation to start being mentioned as a top tier solution.
What does UPayCard offer?
UPayCard offers players the ability to have both a virtual and physical credit card. It operates in a similar way to an e-wallet, but as it can be used like a traditional payment card. It actually offers the best of both worlds because of this.
Because a lot of online casinos don't allow players to collect bonuses when making deposits when using e-wallets, the use of UPayCard means that players are able to easily get access to a number of different bonuses without having to put up with the negatives of using their own payment cards. What is also great about the UPayCard is that it also includes a crypto option. So if you want to use cryptocurrency at an online casino, or in fact at any other place that accepts crypto payments, then it's easy to make the shift between standard currency and cryptocurrency. This versatility is what has helped to make UPayCard one of the fastest growing payment methods on the market.
Signing up with UPayCard
Signing up to an online casino when using UPayCard is really easy to do. Your first step is to check that the casino offers the ability to use UPayCard as a payment method. Once you've double checked this then it's time to look into signing up for both the card and for an account with the online casino itself.
Some online casinos will have a know your customer policy in place. In this case you will need to provide ID in order to prove who you are. It won't have an impact on your UPayCard account as you will need to provide details to sign up for the card in the first place. This isn't a major issue as depending on the license the casino has it could be a law for them to do this.
As soon as this is done you can use your UPayCard at your chosen online casino.
Positives
There are a lot of positives in relation to UPayCard for players. One of the biggest positives is that the security for the card is absolutely top of the line. It has fraud protection as well as all of the standard protections that you would get from your bank. It means that overall UPayCard is one of the safest ways to carry out online payments.
The speed that is offered for withdrawals when using UPayCard is another massive positive. It ensures that players are able to get access to their winnings at a much quicker speed than other more traditional payment methods. This is one of the main reasons that players make the move to using UPayCard over other standard e-wallets.
The ability to use crypto with UPayCard is also very much a positive. This flexibility gives players a lot more choice when looking for a way to make payments. This is especially true as you can make payments to your UPayCard using other methods which might give you access to an online casino that you might have been otherwise unable to use.
Negatives
The only real negative to UPayCard is that it's not as widely accepted as some other cards and e-wallets. This does mean that you might not be able to use it at your chosen online casino. Players aretherefore encouraged to do a thorough check of the online casino they want to play at first to make sure that it offers the ability to use this payment method.
How safe is your information?
Your information is completely safe when using UPayCard. All data is encrypted, which means that even if there is a hack of the UPayCard servers, any data that is harvested will be useless. So your personal information is protected. On top of this there are also anti fraud systems in place to add another layer of protection.
Should you use UPayCard?
It depends on your own needs. UPayCard does offer a lot more choice to players and has increased speed when compared to traditional payment methods. However, if it's not accepted at the casino you want to play at then even these benefits won't apply to you. This means that it's important to weigh up if it's worth using UPayCard at a different casino or using a different payment method at a site you want to play at.
FAQs
1. Do I need to open a UPayCard account to use it?
You do. While it obviously saves a lot of time to have an account with UPayCard when signing up to an online casino, there are some sites that have an integrated sign up page which will make it a slightly faster process.
2. Can I withdraw more than I deposited when using UPayCard?
It all depends. If you've made significant wins at the online casino then you are playing at then yes you can. But, the amount you can withdraw does depend on how much is available in your casino account.
3. Can I use AUD with UpayCard?
Yes you can. UPayCard is fully available to Australian players.
Casino menu
Best bookies