Skrill
Skrill (formerly known as Moneybookers) is a trusted brand hailed throughout the online gaming industry because its services are wonderfully tailored for depositing and withdrawing at online casinos. While the e-commerce services they provide serve a number of purposes, we love it for the purposes of betting money at online casinos. The advantages are outstanding, opening an account is simple, but the downsides could be more than minimal depending on personal preference. Here is everything you need to know about this industry staple.
How Do I Open An Account?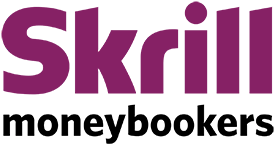 Registration is streamlined and couldn't be easier. You start by entering your email and a personal password. Enter your first and last name and date of birth, select the region of the world you live in, which would presumably be Australia, and the currency you prefer.
All that's left is your phone number and agreeing to their Terms and Conditions and Privacy Policy, and you're good to go. Your email is how you send and receive your money through your Skrill account, loaded and transferred directly from and to your preferred bank account.
What's the Advantage?
You can instantly deposit money from Skrill to the online casino or to your bank account, meaning you have a completely separate and private account for your gaming. Adding an extra layer of protection to your personal bank account information is always a good idea with any online transaction, but can be especially true with online casinos. Despite the best ones utilizing state-of-the-art encryption technology and careful internal controls, it's still impossible to be too careful. They are also available in most online casinos, and even offer exclusive bonuses to some of the top casinos through their site.
However, the biggest advantage of Skrill when it comes to online gaming is the 1% foreign transaction fee, which is half or more than half the fee from most other payment methods. This 1% fee applies to both deposits and withdrawals, and they not only charge the lowest rate, they cap the fee at $10, which is a $1,000 transaction. That means that even if you want to transfer thousands, you'll never pay more than $10 for a foreign transaction. The vast majority of online casinos are located outside of Australia, so on top of their security, safety, and additional features, the foreign transaction fee is a huge selling point.
What Are the Downsides?
One Skrill downside is the potentially hefty fees when it comes to transfers from and to certain payment options, like Visa, Mastercard, or Paysafecard. Often these fees aren't displayed until you are about to use the payment option, which, if your only option is a, for example, Visa card, it can be frustrating. Speaking of frustration, they also have a limited customer support line, only available between 09:00 until 18:00 GMT, and worst of all, it's an international number, so you might be charged an international call rate as an Australian. That is pretty outrageous.
Conclusion
Skrill is a payment method that's available in countless casinos, and it's nice that you can have a separate account to add extra protection to your more sensitive personal information. Their international rates are also unbeatable, but the downsides are a little heavy if they involve things that are important to you, as most other payment methods have a toll-free 24/7 customer service via phone and online chat. The fact that they don't offer that is disappointing. Is Skrill right for you? Visit their site, carefully read what they're offering, and see if they align with your preferences. Those exclusive casino bonuses are very enticing though.
Casino menu
Best bookies