Online Casino Jobs
If you're heavily interested in online gaming, why not make it a career? That's easier said than done, but it's certainly not out of reach if you have a skillset that aligns with the industry. There are different things to consider, but there is a lot of money in it. The movies, the casino, and other pleasure enterprises are, as they say, recession-proof, which makes it a viable path no matter when you're reading this article. The only question is: what are the jobs, where do I have to go to get them (if you even have to go anywhere), how can I apply, and are they even hiring?
What Kind of Jobs?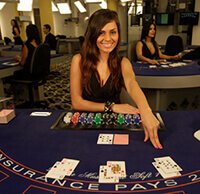 It's easy enough to imagine what kinds of jobs are available at an online casino just by visiting one, as you can see every department operating in unison under the same brand. You have licensing and regulation law, a crucial aspect of the business. You have the obvious designing of the website and the user experience, as well as the marketing department, who are responsible for attracting new players. For the existing players, they have customer support, as well as human resources for the existing employees. And there's a lot of money, which means the accounting department may well have some openings. It's hard not to imagine a fun, exciting, breathless environment, but in reality, the headquarters of an online casino is just your typical corporate structure.
Who Can You Work For?
Within the industry as a whole, professionals in Australia have the choice between a few different facets of the online casino world. You have the online casinos themselves, which we went over in the previous section. However, you could also work for the online gaming software companies, like Microgaming, NetEnt, RTG, and so on. While they have the same type of corporate structure as an online casino, they are heavily focused on the animation, graphics, sound effects, and fluidity of the gaming options. Another option is online casino licensing and regulation companies. I'd like to be the head of one of those. Talk about recession proof – you don't even need to worry about player attraction and retention.
Where Are Online Casinos Based?
Online casinos are based all over the world, but they tend to be based in countries with the lowest tax implications. These are places like Gibraltar, located near Spain, or Malta, located off the coast of Italy, both online casino hotspots. Others include the English Channel's Alderney, the Caribbean's Costa Rica and Antigua and Barbuda, and the Kahnawake Territory in Canada. But you might not have to move in order to work at these online casinos. They often hire remotely, so you can work from anywhere, and there are even some online casino operators based in Australia. While this may require a move, it's a lot easier of a move than shipping your stuff to Europe.
How Do I Find Job Listings?
Online casinos hire through standard job sites, like Monster or whatever else, and you can probably reach out to a lot of them through LinkedIn. You can also see the job listings at the casino themselves. They'll have a section if they're looking for new employees, and it'll most likely be on the bottom of the site labelled "Work For Us" or "Job Opportunities." Chances are you have a specific skillset related to the industry, so searching around with your expertise as the keyword will almost certainly land you at a few opportunities that you can apply for. Online casinos are always, always hiring. They might not be hiring for something you're qualified for, but something will be sure to pop up.
Casino menu
Best bookies