Online Casino Arcade Games
It's kind of funny that most of us were first introduced to the concept of spending money in the hopes of winning something in the arcade. Think about it: you would buy tokens, and then risk those tokens by selecting games you think will win tickets to cash in for prizes. Back then, playing games that didn't pay out tickets were totally fine too if they were fun, a concept unfortunately lost with some at the casino both online and land-based, as the goal of gambling should be to have a fun, entertaining, and relaxing time. Let's bring that nostalgic feeling back with these arcade options (that can win you money instead of tickets!)
Classic Pokies
We had to start with the most obvious choice. Classic, three-reel Pokies have the look and feel of classic arcade games more so than the other options. The object of the game is to line up symbols along the three reels in a winning combination, and the winning combination of symbols are listed above the reels rather than the help section like with the 3D Pokies.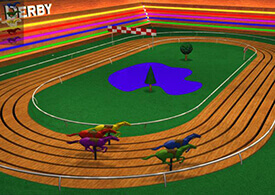 What really makes this like an arcade game is selecting how many coins you want to play (like tokens). The more coins you play, the more coins you stand to win, and the higher you value those coins, the more you'll be paid out because the coins you win are equal to the coins you bet. If you get a winning combination, the bells and whistles light up and ring. Few moments are better, because then you know you can cash those coins in and use them to buy prizes, except this time, the prizes aren't cheap goods behind a glass counter – they're anything in the world.
3D Pokies Bonus Games
This is more conceptual than the previous comparison. With almost all 3D Pokies, with their five reels and specialty symbols, at least one bonus game is featured. Normally, they come in the form of free spins, and the free spins bonus game often is on a separate set of reels with additional specialty symbols or re-triggering potential. However, they are often arcade games in almost the most literal sense of the word. You can find bonus games that involve you trying to block a football from being scored, shoot a basketball, dig into a mine, and many others. The bonus games are usually crafted around the theme of the Pokie as a whole, but in the help section, you'll be able to see exactly what the bonus game entails. To many players, unlocking an arcade-game-like bonus game can be the deciding factor when choosing a new Pokie, especially if the winning potential is awesome (it almost always is.)
Virtual Racebook
We all know how you can bet on the results of a horserace, but few know that you can also bet on the virtual version of a race, which is great for regular horserace bettors when there isn't an event going on. The bets you can place are virtually the same as you can in a regular race book, like win, show, place, and so on, and you can choose a horse and actually watch it race, creating the excitement of real-life horserace betting whenever you want it. This is the type of game you could absolutely imagine seeing on the floor of an arcade, and if it paid out in tickets rather than cash, I bet you people would play it. You can most commonly find virtual racebooks at online casinos that also offer sports betting, but you can find them at some strictly-casino-game online casinos Australia as well.
Casino menu
Best bookies