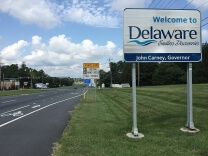 Delaware hits record-high iGaming revenue
August saw online gambling revenue for Deleware surge to a record high, with figures for the month coming in at $945,512 indicating an increase of 19.2 per cent for the month of July.
This is also a 16.9 per cent increase year on year from August 2020 with figures coming in at $808,623.
Meanwhile, a staggering $762,503 of the revenue for August, came from video lottery, while revenue for table games stood at $150,677 and poker rake, plus fees fetched in $32,332.
Delaware Park was the leader for revenues, with the popular operator bringing in $371,964, while wagering stood at $9.2 million. Dover Downs came in second, with figures showing $342,131 for revenue and $6.3 million in player wagers, while Harrington Raceway was third with $231,147 in revenue and $5.6 million in wagering.
Good news for Delaware?
It marks the continuation of a good couple of years for the state in terms of the growth of online gambling, with the legislation of approval being met with hesitancy. The nearby states of New Jersey and Pennsylvania also allow online gambling, with this being a pocket of the US that has clearly shown that there is a demand for it.
The amount that has been earned for the state in terms of revenue generated by taxes has enabled key investment into infrastructure in industries such as construction, healthcare and education, which has in turn generated more jobs.
Bordering the state of New York, this is one that will have watched with interest over the last couple of years, with this missing its deadline in the summer to file appropriate documents for its online gambling approval.
More and more states have been the subject of having online gambling bills passed in recent months and will be hoping to go on a similar trajectory to Delaware whose impressive revenue figures are no doubt going to make a couple sit up and take notice.
Written for Onlinecasino-Australia.com by Martin Jones - Published on 04-10-2021