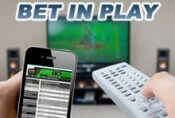 In-play betting was already made illegal in Australia by any means other than over the phone, but Australian players were more than able to circumvent that law by betting in sportsbooks and other betting outlets not located within Australia's borders. However, the government is planning on passing laws that will make even that more difficult, and to many, impossible, or at least impossible without breaking the law, to in-play bet on the web.
What Is In-Play Betting?
When you bet on a sporting event, that usually means that you bet on the outcome before the event takes place, be it the day before or five minutes before. In-play is when you bet on a sporting event after it has already started. The odds will be constantly shifting depending on the team's scores, how much time is left, where racers are in the race, and other similar contingencies.
Over the phone in-play is legal right now through licensed Australian betting outlets, but many players prefer the online version because you can see the odds change as the event moves forward, and pick your bets at more opportune times. Online also makes it a lot easier to place multiple bets after the event has started, whereas calling over and over might prove to be more difficult, especially if there is even a thirty-second wait time.
How Could Players Utilize the Legal Loophole?
Despite the law stating that Australian players cannot place in-play bets online, players were very easily able to do it by joining an online casino or sportsbook that is based and regulated outside of Australia, as those operators do not have to follow those guidelines and also accept Australian players. However, this legal loophole is set to be closed.
What New Laws Are Being Passed?
New laws are being passed to close the loophole and ban in-play betting online altogether, including from overseas operators. For players who enjoy in-play betting and utilized offshore gambling accounts, this is a big blow, because you are now looking at just being able to call in in-play bets. This could also negatively affect online gambling laws in the future, as offshore gambling outlets were already an issue in Australia. The government regulates local venders in such a way that they cannot advertise real-money gambling to people in Australia, but offshore gambling sites can. Banning offshore in-play could mean banning offshore advertising, which could mean banning offshore gambling outlets altogether. It's always dangerous when the Internet accessibility is strictly regulated in terms of player freedom, and that could very well be what we're looking at.
Local vendors are more than happy about this new law, which is understandable. As it stood, they were forced to compete with the far more convenient offshore sites for in-play, but now they're set to be Australian bettors' only option. It's another effort to control problem gambling by the government, but it has seen a lot of opposition from freedom of choice activists, as have many of the antigambling laws set forth by Australia.
We'll see. In the meantime, there are still plenty of online casinos that you can enjoy, and the best of the best for the Aussie online casino community can be found right here!
Written for Onlinecasino-Australia.com by Martin Jones - Published on 10-08-2016