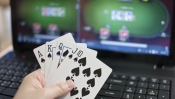 With a new bill published to restrict online gambling even further in Australia, the Australian Online Poker Alliance has been formed to make sure it doesn't mean a ban for online poker players. They're putting up the good fight, and for any player in Australia who loves to play online poker, your support would most likely be appreciated.
We've spoken before about in-play bets being illegal. In-play is when you place a bet while a game is still going on, and while it's only legal to do so over the phone, players have figured out that if they place an in-play bet on their iPhone or other smartphones, they are placing a bet through their phone, technically speaking. This is one of a handful of other loopholes that have opened up Australia online casino players freedoms in regards to choosing how and where to gamble.
However, because of this in-play loophole, legislation is being pushed to close it up, and in the bill, restrictions regarding online poker is also in play. This could be majorly concerning for players who only like to play online poker. But the AOPA is pushing back, and while it is unclear whether they're responsible for it, the government is coming up with a new draft of the bill.
This could be a revision that takes poker out of the conversation, or it could be restrictions that trample on online casino freedoms even further. For all we know, they realized another potential grey area and are looking to close that loophole too.
Our hope is, and presumably the hope of all online poker players Down Under, not to mention the AOPA, is that the revision will do away with online poker restrictions. We'll find out in late March, 2017. In the meantime, show the AOPA some support, and be ready for more restrictions. If you've been doing the in-play betting loophole through your smartphone, it's probably a safe bet (no pun intended) that those days are numbered. Play safe, but we recommend you enjoy it while you can.
And unfortunately, given the trend of recent legislation, the days of online poker in Australia could be numbered too. You might want to enjoy that while you can as well.
Written for Onlinecasino-Australia.com by Martin Jones - Published on 25-02-2017