How to Recognize a Bad Online Casino
Being able to identify a good online casino is important, but knowing how to identify a bad online casino can be just as important so that you know what to avoid. It is easy for an online casino to make themselves look legitimate, especially when they are copying the look and feel of the most trusted and reputable brands. Unfortunately, a bad online casino can offer things that make them seem like the better choice over a good online casino, like game selection and Welcome Bonuses. However, your safety and security should be your number one priority, not how much extra free cash you get to play with, because free cash doesn't do you much good if you can never withdraw your winnings, if your personal information is compromised, or both.
Player Forums and Expert Reviews
A great place to start when trying to figure out whether an online casino is good or bad is to search the name of the online casino followed by the word "review." You will find forums of players discussing their experience at the casino, what kind of problems they came across, or what kind of problems they did not come across. If a casino has a reputation for not paying out or putting the player through an absurd rigmarole in order to receive the payout, especially if that has happened to multiple players, it is best to avoid that casino. It is also good to look at expert review sites, like this one and the many others online, to see if they recommend the casino or recommend that the player avoid it. To figure out whether a casino is bad, this is the best place to start.
Jurisdictions and Licensing
Look and see whether the casino displays where they are licensed or who their parent company is. If they are owned by a parent company, check to see where they are licensed. They can be based in certain countries and be licensed in certain countries that are not very strict at all about their regulations or oversights, which is normally why the online casino will choose to be licensed there.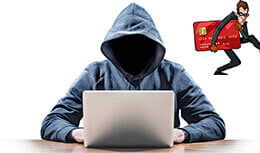 This is a big red flag, because if they planned on following regulations and licensing procedures, they would have no reason to choose a governmental body with loose regulations. A huge red flag is when a casino used to be licensed in a certain jurisdiction, and then chose to be licensed in a jurisdiction with less oversight. Strict jurisdictions include Gibraltar, Australia, the Isle of Man, Australia, Malta, and the UK. Loose jurisdictions include Costa Rica, Curacao N.V., Antigua & Barbuda, and the Philippines. In the middle sit Vanuatu and Kahnawake.
Third-Party Certifications
Third-party certifications mean that there are unbiased audits and fairness checks that have been done in that casino. The most trusted of these third-party certifications is the eCOGRA seal. Take a look at the ins and outs of what that company does to ensure player safety, fairness, and consistency in our detailed description. If the casino has third-party seals, they will display them at the bottom of their site. Independent audits and oversights are things that players heavily rely on for their own protection, so be sure to go with the casino that has them.
Awards
Similar to third-party certifications, online gambling awards are given to casinos that showcase the utmost legitimacy, fairness, security, and reliability when it comes to their operations. These awards will be proudly displayed on their website, and because these publications carefully select who they give their awards to, you can rest assured that it is a great indication that it is a good casino, because otherwise the publication's reputation will be at stake. Some of these awards come from EGR, Gambling Online, Global Gaming, CasinoPlayer, Casinomeister, and many more.
Software Provider
The software provider that the casino operator has partnered with can be an indication in and of itself that the casino is reliable. We have a great overview page of all the most reputable gaming software providers, with in-depth descriptions of each one for further reading. These software providers will also have the oversights, regulations, licensing, and third-party audits that instil player confidence. Software providers like Net Ent, Microgaming, and Playtech are particular standouts for their quality and reliability.
Casino menu
Best bookies