Aristocrat Technologies
As the second largest producer of Poker machines on the planet, and far and wide the largest in Australia, Aristocrat isn't just not a software company you should know, they are impossible to ignore. They are headquartered in Sydney, a local company that supplies betting machines to land-based casinos around the world. But we're all about the best online casinos available to players in Australia, and Aristocrat Technologies offers some of the finest, most innovative, and winningest virtual games you'll find online.
Brief Company History
Aristocrat was founded in 1953, and they immediately began work on their first Pokie, which was released in 1956. From there, they distributed their games around Australia, and the success led to them expanding to Europe in the 1960s. In the 1970s,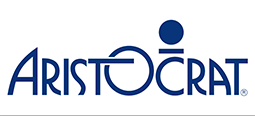 the digital revolution began, and Aristocrat, along with other countries (both Down Under and around the world) transferred their mechanical pull-lever Pokies to electronic, which paved the way to virtual games in the 80s that had the same gameplay, odds, and excitement, just on a digital screen. The versatility of playing Pokies became unprecedented, and today, we see the results of the decades of experience by way of immersive setups, stunning graphics, smooth animation, and incredible progressive jackpots that are linked across machines. Thanks to Aristocrat Technologies and others like them, we can enjoy these games from within the bustling atmosphere of brick-and-mortar casinos, hotels, and pubs, from the comfort of our home computers, and with the on-the-go convenience of our mobile devices.
Their Style and Game Types
The team at Aristocrat prides themselves on covering the preference spectrum of all players. From the classic three-reel Slots, to 3D Pokies that are on par with the latest video game consoles, there is no chance that there is a player out there that won't be able to find a game they can get excited about. They also have plenty of themes to check out. You can find the newest television and movies, like The Walking Dead and Game of Thrones. You can also find some retro classics, iconic characters from comic books and cinema, and more pop culture references than you'll know what to do with. Their games also have themes like exotic adventures, fantasy, and more. The Pokies are intuitively set up and in-depth enough to entertain even the most advanced player, and with their help sections and the offering for online players to try out their games for free in demo practice mode, even brand new players can jump in and join the fun.
Their Games
We went over some of their games in the previous section, and since they consistently and continuously put out new and exciting titles, but it's worth going through some of their top choices, and you will assuredly run into some of them when playing online from Australia or going to any of the local spots. Their games include: The Walking Dead; The Big Bang Theory; Weird, Wicked, & Wild; Buffalo; Sons of Anarchy; Britney Spears; Goblin's Gold, Can Can de Paris, Lightning Link, Player's Choice Gold Jackpots, Game of Thrones, Batman, Sky Rider 1 & 2, African Big 1-5, Mr. Cashman, Queen of the Nile, 5 Dragons Gold, More Chilli, and Good Fortune, among others.
We went through all the different online casinos available to Australian players and found the best of the best to create a one-stop resource for our visitors. Many have Aristocrat Technology games. Just look for their iconic seal at the bottom of whatever site you choose, but know that wherever you land, it will offer the same level of quality and excellence that Aristocrat has built their international reputation on.
Casino menu
Best bookies