Referral bonus
In the digital age, being rewarded for referring someone shouldn't be a new concept. Whether it's a food ordering website, a transportation service, a bank, a shopping outlet, or any number of services, companies commonly reward people for finding them another customer, and the same is true at an online casino. The Referral Bonuses—also commonly known as Refer-A-Friend Bonus—reward players who refer their friend to the casino. But how do they work, and what are the stipulations?
How It Works
By getting a friend registered on the site, the casino will either give you a deposit-matching bonus based on what they deposit, or just give you free cash of a predetermined amount.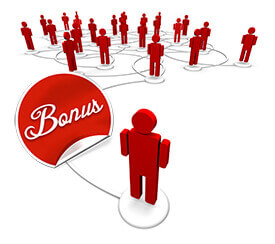 Simply follow their instructions on how to invite your friend, which is normally sharing a link that's unique to your invitation, and if they choose to accept, you're good to go. If it's a deposit-matching bonus, the casino will match your friend's deposit by 20% to as much as 200% or more, and they will either increase that percentage if you refer more than one friend, or simply allow you to refer as many friends as you like with the same referral bonus.
The friend can take advantage of the Welcome Bonuses too, which means you'll both get free money. But like all promotions, stipulations apply.
The Stipulations
If it's a deposit-matching bonus, the Referral will have a maximum amount a player can receive. Simply visit the designated page to see what the maximum amount is. It should say something like, "200% bonus, up to $100." Also like the other two bonuses, the player will have to wager the rollover amount before they can withdraw their winnings, but that amount is normally significantly lower than the other two. Where a Welcome Bonus could have a 25x rollover, and a No-Deposit Bonus could have a 60x rollover, the Referral Bonus could be as little as 5x. This means that you need to place bets that equal 5x the deposit-matching bonus. For example, if you receive $100, you would have to wager at least $500 of that bonus money to receive a payout. But if the casino just give you cash, that can often be immediately withdrawn.
Conclusion
If you have a friend that is interested in playing at an online casino, it just makes sense to utilize a Referral Bonus if your casino offers one. The rollover rates are low, the maximums are reasonable, and now you'll have someone new to talk with about the excitement of online gambling.
Casino menu
Best bookies