Anonymous online casino
Most casino players don't mind typing in their name, billing address, regular email, and standard payment info, especially when they know the casino has a glowing reputation and employs the highest level of security technology. With that said, it's never a bad idea to add as much anonymousness as possible when you're doing anything online. Here are some helpful tips to do so when you're placing bets in virtual lobbies.
A Unique Casino Account
This is the easiest way to add some anonymity. Create an email address that is specific to your online casino play and not associated with your personal or professional usage. This adds a nice level of anonymity, especially if you use that email for all your other online activities.
Make sure your username is completely unidentifiable to your name, location, age, or any other information that could make someone garner some information about you.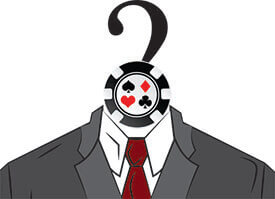 If your name is George, you're 30, and you live in Oshawa, the username "knzkndkn929237" is a million times better than "George_30_Oshawa."
Avoid providing your real billing address too, if possible. If you use a web wallet or a similar ecommerce service, you simply need to log in to your web wallet account with your email and password associated with that account. You then simply choose the amount you want to deposit and it's instantly available. If the casino requires you to withdraw using a payment method that necessitates you providing your home address, like mailing you a cheque or requiring a bank, credit, or debit card transfer, you might want to go with a different online casino if anonymity of that level is important to you.
Web Wallets
A web wallet is a financial service that acts as a completely separate account from your standard bank account, credit, or debit card. The third party option allows you to upload funds from your regular and more sensitive financial providers, and then use that web wallet account to transfer money into the online casino. It adds an extra layer of anonymity, especially if the email login you use for the web wallet is different from your regular email. Our most recommended web wallets are Skrill and Neteller, two products that undergo strict regulations, regular audits, and independent oversights, and they are both owned by Paysafe, one of the most respected, popular, and trusted financial services in the world.
Bitcoin Casinos
A very new and exciting concept is the Bitcoin casino. A big aspect to Bitcoins in general is the fact that they are anonymous and not tied to any country's currency. Instead, it's its own entity, and can be used to gamble with online at a handful of new and exciting casinos. Not only that, but many online casinos now accept Bitcoin, so you're not necessarily just limited to Bitcoin Casinos specifically, where you can only deposit, bet in, and withdraw in Bitcoin. With that being said, Bitcoin Casinos are specifically crafted with the anonymous gambler in mind. You just need to log in to your Bitcoin account, whether it's the cloud version or a software wallet. In fact, a large number of Bitcoin casinos not only boast the option to deposit and play anonymously, but also the option to register and deposit in a mere 15 seconds, which is more than pretty much any other online casino can say.
Social Engineering
Much like with spam emails and in chat rooms, people on the internet are often out to get personal information, and poker rooms are no exception. There is often a chat feature that allows players to communicate with each other, and some of those people could ask for personal information. Even worse, some phishing methods are people emailing you pretending to be the casino and asking you for personal information verification. Never share personal information on the online chat in poker rooms (or anywhere else, for that matter), and the casino would never ask to randomly verify personal information unless you specifically request a withdrawal or something along those lines. If you're ever unsure, reach out to the customer service and verify that it is indeed them. It could never, ever hurt to ask.
Be Aware
Going out of your way to be anonymous is a great way to be… well, anonymous. However, you need to be aware of phishing and social engineering at all times. Don't let yourself be in the position of handing over your personal information, especially when you've done so much to protect it. As easy and obvious as it sounds, you would be surprised at how often it happens, and no matter how anonymous you are, it won't protect you from an untrusted casino. Make sure that you go with the ones we recommend, because they always pay out, have the best security measures, and keep your personal information completely to themselves, going so far as to have internal controls to prevent fraud from within.
Casino menu
Best bookies