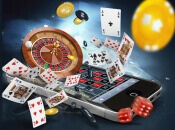 While the turmoil of American politics has dominated global news as of recently, a new government bill in Australia is making online casino players nervous, and overseas operators more than a little anxious.
Online gambling laws were already strict in comparison to places where little to no online gambling laws affect a player's accessibility. But speaking of America, their online gambling laws are extremely strict. While some online casinos make their lobbies available to US players, many of the best don't want to deal with the potential hassle of fines and sanctions. Australian players may be strongarmed into being very limited in selection, just like in the US, thanks to this new bill.
The Interactive Gambling Amendment Bill 2016, which was introduced by the communications minister Mitch Fifield, was seemingly motivated by the click-to-call loophole that players were taking advantage of. While you couldn't place an in-play bet on sports online, you were about to call in to place bets while a match was being played. Online casinos created a virtual click-to-call portal, where you can make a phone call directly from the online casino.
But the bill doesn't just close this loophole, it's seeking to completely disrupt offshore online casino operators by fining them over a million dollars a day for every day they make their lobbies available to players without the proper licensing.
The justification actually isn't without valid reasoning. Offshore online casinos wouldn't be paying the taxes that would go back into the community, but would instead be taking the money lost from players and keeping it/redistributing it within its own local community, which can be thousands of miles away.
As the human services minister Alan Tudge put it: "The government is committed to taking tougher action against illegal offshore wagering providers and this bill does exactly that."
The Australian Communications and Media Authority (ACMA) will now have the authority to enact the penalties as well, whereas before the bill is passed, it was up to the Australian Federal Police (AFP) to issue the warnings. The AFP has been known in the past to prioritize other issues before addressing some online gambling violations, but with the ACMA holding the reins, it's not tough to imagine them addressing every last violation or inconsistency.
In the UK, strict gambling laws have ensured that the much of the money being lost by players comes back into the community. The UK, however, offers much more in the way of options in comparison to Australia, and allow operators to not only be available to UK players, they let operators base their headquarters in the UK. This, at least I feel, is the much more reasonable way to regulate and control online casinos. Outright banning anything opens up an illegal market.
It's hard to say where things are going with the Interactive Gambling Amendment Bill 2016, but it's no doubt not going to be the last we hear from the ACMA whether it's passed or not, and even if it does go through, it's hard to imagine — given the fact that new online gambling legislation in Australia has been an annual even for some time now — that this will be the last of the bills being passed.
Written for Onlinecasino-Australia.com by Martin Jones - Published on 18-11-2016